Shopping Cart
Your Cart is Empty
Thank you for your business!
You should be receiving an order confirmation from Paypal shortly.
Exit Shopping Cart
Can You Make A Small Donation?
Join our Facebook Group to keep up to date on all of our dogs, events, and for general boxer chat etc
THANK YOU FOR SUBMITTING YOUR

APPLICATION TO ADOPT A BOXER

YOUR APPLICATION IS NOT YET COMPLETE!

PLEASE READ THE FOLLOWING:
PLEASE MAKE SURE YOU CHECK YOUR EMAILS REGULARLY WE CANNOT AFFORD TO CONTACT PEOPLE VIA TELEPHONE TO CONFIRM RECEIPT OF APPLICATIONS
Once we have read over your form and providing all is ok with your answers, you will receive an email back from our co-ordinator to acknowledge that we have recieved your application, we will then arrange for you to be homechecked, this is where one of our volunteers will visit you at your house to discuss your circumstances and suitability to help match you to the right dog.
Once this has been completed, and providing you have passed the homecheck, you will then receive a call/email to let you know all is ok.
You will then be invited to meet the dog you are interested in, or you will be put on our waiting list for a suitable dog, if we dont have a suitable one in already.
Please note on the day of adoption we require an adoption contract to be signed and an adoption fee of £190 is asked for.
If the dog you are adopting is in a foster home all donations must be paid by cheque made payable to Boxer Rescue
PLEASE KEEP IN TOUCH! IF YOU DECIDE TO GET A DOG ELSWERE OR DECIDE NOT TO GO AHEAD WITH ADOPTING A BOXER WE WOULD APPRECIATE IT IF YOU LET US KNOW ASAP SO WE DONT ARRANGE A HOMECHECK.
Email: [email protected]
or call us on: 07542095781 if you require any more info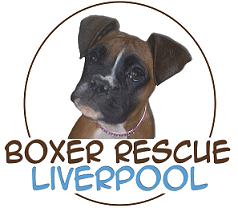 /